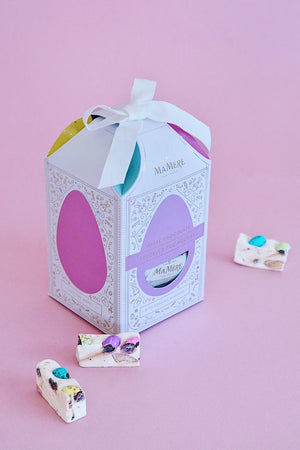 Ma Mère Confections
White Chocolate, Speckled Egg Nougat Giftbox 185g
Sale price Price R 155.00 ZAR Regular price
The perfect Easter treat! This giftbox comes packed with individually wrapped, bite sized pieces of luxurious white chocolate nougat, filled with roasted almonds and topped with Speckled eggs.
Each box contains approximately 10 bite sized pieces. Please note, each piece is hand cut and boxes are packed according to weight so the number of twists in each box may vary slightly. 
INGREDIENTS: Sugar, Glucose Syrup, Speckled Eggs (16%) [Sugar, Glucose Syrup, Milk Solids, Cocoa Mass, Cocoa Butter, Gelatine (Beef), Corn Starch, Lactose, Acidity Regulator, Emulsifier (Soya Lecithin), Pectin, Salt, Flavouring, Colourants], White Chocolate (16%) [Sugar, Hydrogenated Vegetable Fat (Palm Kernel), Skim Milk Powder, Lactose (Milk), Whey Powder (Milk), Maltodextrin, Soya Lecithin , Polyglycerol, Polyricinoleate, Flavouring," Honey, Almonds (4%), Egg Whites, Cocoa Nibs.
Dusting: Rice Flour

ALLERGENS: TREE NUTS, EGG, COW'S MILK, SOYA
THIS PRODUCT IS MADE IN A FACTORY THAT USES TREE NUTS & PEANUTS.
* NOW HALAAL CERTIFIED