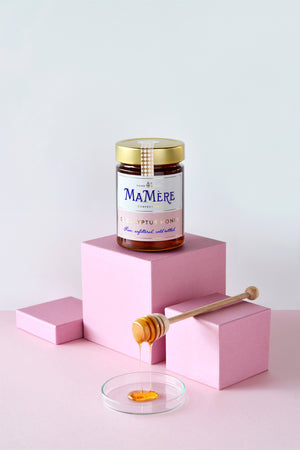 Ma Mère Confections
Eucalyptus Honey Jar
Sale price Price R 199.00 ZAR Regular price
It is the very same honey we have been using in our nougat since day 1. It is, in our opinion, the tastiest honey on Earth!
100% authentic, raw, unfiltered & cold settled Eucalyptus honey. It contains no added sweeteners or artificial nasties. This is pure honey of the highest quality, brimming with natural goodness.
Our trusted bee keeper is a third generation beekeeper & the biggest producer of raw honey in the Western Cape, he uses his family's beekeeping know-how to harvest completely natural and raw indigenous honeys.
*Because this honey is raw & unfiltered, it may contain small pieces of honeycomb & pollen. These pieces are harmless, healthy bi-products of the beehive and are safe for consumption. Its colour, flavour & consistency may vary.
Weight: 450g