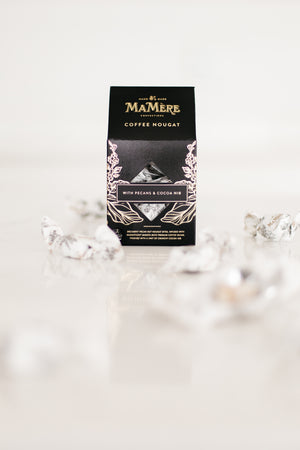 Ma Mère Confections
Coffee & Pecan Nougat Gift box 150G
Sale price Price R 155.00 ZAR Regular price
individually wrapped pieces of decadent Pecan nougat bites, infused with Magnificent Barista Boys premium coffee beans, finished with a hint of crunchy cocoa nib. 

This nougat delivers a rich, creamy taste and makes the ideal dinner party gift.

Ingredients: Sugar, Glucose syrup, Pecans (11%), Honey, Coffee (6%), White Chocolate [Sugar, Hydrogenated Vegetable Fat (Palm Kernel), Maltodextrin, Whey Powder, Lactose (Milk), Skimmed Milk Powder, Soya Lecithin, Emulsifiers, Flavouring], Egg whites, Cocoa nibs (2%), Wafer paper [Potato Starch and Vegetable Oil (Olive Oil)], Flavouring.
CONTAINS: Eggs, Cow's Milk, Tree nuts, Soya
MADE IN A FACTORY WHICH USES PEANUTS & WHEAT & GLUTEN

* NOW HALAL CERTIFIED