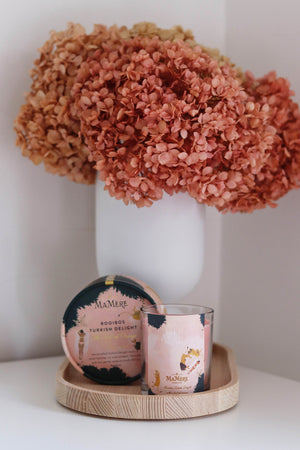 Ma Mère Confections
Classic Glass Candle
Sale price Price R 165.00 ZAR Regular price R 265.00 ZAR
This limited edition candle was created in collaboration with Wick Fragrances.
This scent is a celebration of our Rooibos Turkish Delight with a hint of Orange.
A blend of rooibos, musk, candied sugar and a hint of orange, emulates their latest confectionery treat, housed in signature packaging, featuring illustrations by local artist, Katrin Coetzee.
The Candle
Candles made for scent lovers.
A classic candle, perfect for everyday burning. Watch as a single cotton wick lights up the room, whilst generous wafts of fine fragrance slowly envelop your space. Our artisanal candles are hand blended and poured from the WICK studio Cape Town, South Africa.
The Details
35 Hours Burn Time | Net Wt. 200 g  | Single Cotton Wick | 8cm x 8cm x 7cm