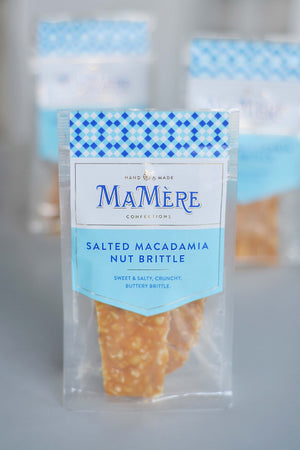 Ma Mère Confections
Salted Macadamia Nut Brittle
Sale price Price R 55.00 ZAR Regular price R 0.00 ZAR
This is one of our most popular products amoung our loyal customer base. Crunchy, buttery caramel brittle, filled with roasted macadamia nuts and sprinkled with sea salt. This is one of our flagship products that is usually enjoyed at least 2 bags at a time!
*comes in a re-sealable bag.
Ingredients:
Sugar, Macadamia Nuts (35%), Glucose Syrup, Butter (Cream, Salt), Bicarbonate of Soda, Sea Salt Flakes (0,3%).

Allergens: Nuts, Cow's milk,
THIS PRODUCT IS MADE IN A FACTORY THAT USES TREE NUTS & PEANUTS.
* NOW HALAAL CERTIFIED
Shelf life: 3 months