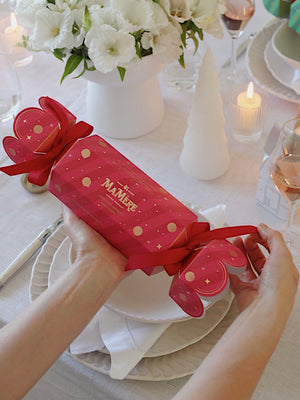 Ma Mère Confections
Red Festive Cracker - Assorted Nougat Twists 150G
Sale price Price R 165.00 ZAR Regular price R 77.99 ZAR
Perfect for your Festive table, Secret Santa or stocking stuffers. These Guided Crackers are stuffed with an assortment of nougat twists, perfect for sharing amoungst friends and family.
1 ALMOND & CRANBERRY TWIST
1 ROASTED ALMOND NOUGAT TWIST
1 WHITE CHOCOLATE, VANILLA, OLIVE OIL & ALMOND NOUGAT TWIST
1 LUXURY CHOCOLATE NOUGAT TWIST (*nut free)
1 SALTED MACADAMIA NUT NOUGAT TWIST
1 POMEGRANATE & PISTACHIO NOUGAT TWIST
THIS PRODUCT IS MADE IN A FACTORY THAT USES TREE NUTS & PEANUTS.
* NOW HALAL CERTIFIED